Hintertux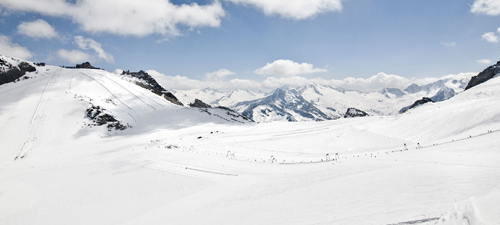 If you ski Hintertux you get the thrills of Europe's most challenging glacier skiing and snowboarding. All year-round winter sports including a 12km long run. Pistes for all abilities at up to 3250m altitude - perfect! Read on to find out more.
Where?
If you ski Hintertux, you can choose anytime in the year for your ski holiday. As the whole resort is glacier skiing and snowboarding, you'll find challenging slopes whatever the weather elsewhere. Sharing the Zillertal Superskipass, this resort offers stunning views of the surrounding mountains over to Finkenberg and even Mayrhofen. Access is a pain unless you can fly into Innsbruck which has a 90 minute transfer. Salzburg and Munich are close to 2.5 hours on a good day.
resort ESSENTIALS
| | |
| --- | --- |
| RESORT ALTITUDE : | 1500 m |
| TOTAL PISTE : | 72 km |
| LONGEST RUN : | 12.0 km |
| SEASON : | July - June |
WE LIKE
One of the best glaciers in the world and lots of great reds to keep you busy. This is glacier skiing at its best.
Linked to other large ski areas of Zillertal and has a 12k run from the Gefrorene Wand to the bottom.
Excellent off-piste opportunities and great snow quality and conditions. Only 90 minutes from Innsbruck.
WE DON'T LIKE
Few shops and very quiet après-ski - this is not a not a party town. A better option is to stay in Mayrhofen.
Not ideal for beginners as there are few easy runs. Lower slopes can also get very crowded.
Glacier can be cold and bleak in mid winter - plus no tree-lined skiing!
SUITABILITY RATINGS 1-5
On the Slopes
Ski holidays in Hintertux ski resort allow you to ski the Tuxer Glacier - with skiing as high as 3,250m it offers steep, challenging slopes all year round, and is used by many national ski teams during the summer months. Intermediate/advanced skiers and boarders will really enjoy the challenges and if you like off piste then you will have plenty to keep you busy.

Hintertux is also one of the resorts covered by the 'Zillertal Superski' pass, with a total of 455km. As a freestyle boarder or skier, you have a good terrain park as well as some half pipes to play with. Any other fun you want you may have to look for the lips of the pistes and also the off piste areas themselves - there sure are plenty.
Ski Area
If you ski Hintertux you are also in the ski region of Zillertal.
Off the Slopes
Despite the resort name, there's no village called Tux - rather, it's a collection of villages, Lanersbach, Juns, Madseit and Hintertux. However, there's the Tux Sport bus which circles around so you can easily stop off wherever you fancy - there's a great selection of restaurants, pubs, bars and clubs for every taste and budget. Other activities include a sled ride on one of Tux's three illuminated tracks, snowshoe hikes, and over 38km of prepared winter hiking trails.
Who's it Best For?
We think it's great for glacier skiing and for intermediates and experts. Also, great if you want to ski off piste.
The Hintertux glacier is Austrias only year round ski resort and offers snow sure runs 365 days of the year. In addition to the slopes there's great free ride runs at the Larmsdtange, snowboarders will love the Betterpark Hintertux and beginners will also love the Familypark.
So whether you are looking for a cheap package break or you are an independent traveller and want to find a chalet or hotel room we can help. Working with some of the UK's leading ski operators and independent chalet owners we aim to bring you great choices and great prices.
Why Choose Hintertux in Austria?
1. Great glacier skiing.
2. It has great links to other ski areas in the Zillertal.
3. Amazing 12km run from the Gefrorene Wand to the bottom.
4. Great for off piste skiing and boarding.
Is Hintertux Right for You?
If you are sure that Hintertux is the resort for you then check out the holidays we can offer and book a great deal online today.
Before planning your ski trip to Hintertux it is best to first of all understand a little about the area. The Hintertux itself is really a number of hotels at the foot of the cable car. So unless you want to stay in one of these hotels you will need to look at a number of villages in the Tux valley and take a bus in every day to the slopes.
So if you are looking for a chalet then this is your best option and many of the villages, including places like Lannersbach and Finkenberg, are absolutely charming. Chalets generally come either catered and non catered and you will get a good choice here, and the surroundings are awesome!
Where to Look for a Ski Chalet
The village of Lannersbach is a beautiful village and and has a good choice of hotels, chalets and apartments to choose from. You will need to get a bus every day to the slopes but the bus service is regular to the glacier cable car and to the lift that links you into the Mayrhofen ski area.
You may also want to check out a number of guest houses and B&B's which offer really good value for money here. The apartments are also good as many come with shared wellness facilities that are great if you are travelling with children.
Apartments can be a great idea on a ski holiday. Many have amazing facilities that would match any hotel including spas and swimming pools. They can also work out slightly cheaper than chalets so are well worth checking out. In addition many are in great locations offering ski in ski out opportunities.
When booking accommodation in Hintertux do bear in mind that Hintertux itself is really only a collection of hotels around the foot of the cable car. So unless you want to stay in one of these hotels you will need to look in the villages in the Tux Valley to find a good apartment.
Apartments in Hintertux
Check out the villages of Lannersbach and Finkenberg. Both have good buses that take you to the slopes everyday and both are beautiful villages to stay in. You will just have to buy in to commuting every morning. In both villages you will find a good range of apartments to choose from.
Both villages also have a good range of guest houses, known as pensions and B&B's to choose from, so do check these out as well. Some apartments will also offer great facilities that will suit families in particular. If you contact the tourist office at Tux you will find over 200 apartments in the area, so a good choice here.
Hotels can be a great choice for a ski holiday. Some hotels include transfers in the package and also offer first class restaurants and all manner of apres ski. For families, family rooms can also work out very cost effective and some hotels also offer babysitting services.
Hintertux itself is really all about hotels as it is really a collection of hotels around the foot of the cable car. If you are looking for either chalets or apartments we would suggest you check out the surrounding villages in the Tux Valley including the villages of Lannersbach and Finkenberg which have good buses to get you to the slopes each morning.
What Hotels are Available in Hintertux
The hotels that are clustered around the cable car will of course give you the quickest access to the slopes. These include the Hintertuxerhof a three star hotel that has good family suites. There are also a number of 4* hotels here including the Alpenhof and Gletscher & Spa Neuhintertux, the later has a good swimming pool.
If you do want to stay in one of the villages nearby then check out the Central and Alpin Spa, both 4* hotels in the village of Lannersbach. If you stay here you will need to commute to the slopes each morning but the upside is the chance to stay in a beautiful Austrian village.
Hintertux is set in the Zillertal valley in the Tyrol. There are 3 main airports that you would look to fly into. The easiest by far is Innsbruck which has a transfer time of around 90 minutes. Innsbruck is now serviced by Easyjet so you should be able to get some good deals.
If Innsbruck is not an option for you then check out Salzburg and Munich. Both will have a transfer time of around two hours. Munich receives more flights, both chartered and scheduled, than Salzburg but you will need to hire a car from Munich airport for the transfer.
Taking the Train
Nearby Mayrhofen has its own station which sits at the head of the Zillertalbahn railway. If you want to take the train from Innsbruck the journey will take about 90 minutes and you will need to take an additional taxi or bus from Mayrhofen railway station.
Alternatively, if you want to ditch the plane and do the whole journey by train then consider taking the Eurostar to Paris where you will then need to get train connections to Innsbruck or Zurich. So taking the train is quite possible and can work out quite cost effective but you will need to make a number of changes. Likewise you could consider driving the whole way, from Calais this will take you about 11 hours.
Compare Hintertux ski schools and then book or reserve your ski and snowboard lessons before you arrive in resort! Reserve your spaces in group or private lessons in Hintertux so saving yourself a lot of hassles!
Ski Schools in Hintertux
Whether you want to have ski lessons or snowboard lessons, most Hintertux ski schools offer a wide range of options including half day lessons, private or group lessons. Use GoSki.co.uk to find out more.
Nearby Resorts
»

Finkenberg (14km)
»

Mayrhofen (23km)
»

Zell am Ziller (25km)
»

Gerlos (42km)