Åre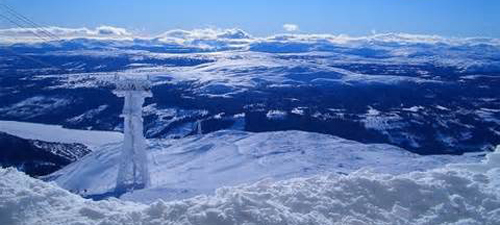 Ski Åre for a well rounded skiing resort with nearly 100 slopes at all levels and a friendly village character that all culminate in making a perfect holiday for skiers and boarders alike. Read our guide and try Sweden this winter!
Where
In the heart of Sweden, Åre is the largest resort in the area and one of the largest in Sweden. It is comprised of three interlocked villages that are in a line alongside the Aresjon Lake. The villages are Åre, Duved, and Bjornen and all boast very different characteristics. To reach the Åre ski resort you can drive, fly, or use trains and once you reach the resort, a car is helpful but not essential. The closest airport to Åre is Åre Ostersund with domestic flights from Stockholm. Check out our resort guide to discover where is best for you to stay.
resort ESSENTIALS
| | |
| --- | --- |
| RESORT ALTITUDE : | 384 m |
| TOTAL PISTE : | 101 km |
| LONGEST RUN : | 7.0 km |
| SEASON : | November - April |
WE LIKE
Long season with great slopes and a great resort - perfect!
Excellent and varied runs that are also a reasonable length too. Beginners and families especially well catered for here.
Really lively and vibrant resort village - without being too rowdy.
WE DON'T LIKE
Snow quality can be a bit hit and miss due to altitude
The day turns to night early this far north - there are floodlights, but it's not the same at 3.30pm!
It's really expensive in Sweden period. So après-ski tends not be an every night affair!
SUITABILITY RATINGS 1-5
On the Slopes
There are 99 runs when you ski Åre so you rarely have to take on the same slope more than once. More than 50% of these slopes are for beginners and intermediate skiers. With only five expert slopes, if you are looking for challenges, you may have to head over to the three parks for more skilled skiing.

However, the wide variety of slopes and parks as well as the half pipe are a large draw to many snowboarders, making Åre an excellent location for those who want to fine tune their snowboarding game. Plus, since there's nighttime skiing and plenty of slopes, you could potentially spend your entire holiday skiing or boarding.
Off the Slopes
For those who want to spend some time off the slopes there are however, plenty of other options. All three villages that make up the Åre ski resort are friendly, but each has their own individual personality, creating plenty of activities for every type of holiday trip.

The Bjornen village for example is very family friendly, while Åre is the centre of activity, with the Duved Village inspiring relaxation. Between the three villages there are plenty of bars, restaurants, shops, and nightclubs to keep holiday goers busy while they are not on the slopes. In particular, the Bygget bar is a great place to have an excellent time mixing with the locals, especially on a Tuesday night. However make sure to bring your ID because the area is very stringent about drinking age laws.
Who's it Best For?
Good for all levels but especially good for families and beginners.
If you fancy trying something different from the usual trip to the French Alps this year but you don't fancy long haul then Åre could be a great choice. Good snow, amazing pistes and also great nightlife, it's all here.
Check out the ski package holidays available here with the UK's leading ski operators. Alternatively, read our accommodation guide if you are an independent traveller and want to go it alone.
Why Choose Åre in Sweden
1. Great for families and beginners.
2. Lively nightlife.
3. Lovely long runs.
4. Long ski season.
Is It Right For You?
If you think that Åre is the right resort for you then check out the holidays we have available or check out our accommodation pages if you are simply looking for somewhere to stay.
There is a good choice of accommodation in Åre but do be careful, most of the accommodation is on a 15km bit of road, get the wrong bit and you could be a bus ride from where you really want to be.
You have a choice in Åre between 4 distinct areas- Åre By, Duved, Tegefjall and Åre Bjornen. The accommodation choices include mountain cabins(the nearest thing you will get to a chalet), hotels and apartments.
Where to Look for a Chalet
Åre By is a small village with all the nightlife you could hope for. There are a good range of apartments here alongside cabins. A number of the cabins are in a lovely location on Klappenberget mountain, a beautiful quiet location. You will also find similar cabins in Duved, which is a 10 minute ski bus from Åre.
Popular with families is the area called Bjornen, 7km east of Åre. Here you will find spacious cabins and lots of activities for children. Tegefjall has accommodation right on the piste, predominantly apartments, which overlook the childrens slopes.
You will find a good choice of ski accommodation in Åre from hotels, log cabins to modern apartments. But be careful, a lot of accommodation is in neighbouring villages where, if you get it wrong, you will need to bus it every day to where you need to be.
In Åre you can choose to stay in a number of different villages including Åre By, Duved, Tegefjall and Bjornen. Accommodation here is not known for its value but there are some apartments to suit those on tighter budgets.
Where to Look for an Apartment
Åre By is where you should head for great apres ski. There are great nightclubs here, bars and restaurants. There are also some really good apartments, some right in the centre of the village and some like the Liengarden apartments which are in the middle of the slopes.
Duved has some good value for money accommodation. This is just a few km west of Åre and offers apartment hotels, apartments and good value log cabins.There is also good value family accommodation on offer at Bjornen, only 7km east of Åre.
Accommodation in Åre is mostly all about log cabins, hotels and apartments. Generally the quality is of a high standard, the costs are a little higher than you may pay elsewhere but there are still some good value offerings.
First of all you need to decide where you want to be. There are some hotels and apartments which say they are in Åre but they could be in a village 7km away where you will need to get a bus, so do check carefully.
What Type of Hotels are Available Here
Are By is the place to head to if you want lively nightlife, good nightclubs, bars and restaurants. The Hotel Diplomat is just off the main square but also only a short walk from a ski lift. Ten minutes from the town square is the Holiday Club Are which is great if you have children as it has a water park complete with water slide.
Good hotels for ski in ski out include the Tott Hotel and the Fjallgarden, but do be aware they wouldn't be a good choice if nightlife is your thing. If you don't mind a short bus journey out to Bjornen then check out the Copperhill Mountain Lodge, great 5* luxury.
The nearest airports to Åre are Ostersund, 80km from Åre and Trondheim which is 130km from Åre. Scandinavian airlines operate regular services to Ostersund via Stockholm from Heathrow, London City and Manchester Airports.
Another alternative is to fly into Trondheim in Norway which, whilst it is 170km away, you can get a train from the airport to Åre with only one change.
Taking the Train
There is a train station right in the heart of Are village and also in Duved. There is a regular train service between Malmo, Stockholm and Are including a night train.
You can always get a bus from Stockholm to Are which takes about 8 hours. You will need to pre book this service, prices are approximately 250 Swedish Kroner per way per person.
Compare Åre ski schools and then book or reserve your ski and snowboard lessons before you arrive in resort! Reserve your spaces in group or private lessons in Åre so saving yourself a lot of hassles!
Ski Schools in Åre
Whether you want to have ski lessons or snowboard lessons, most Åre ski schools offer a wide range of options including half day lessons, private or group lessons. Use GoSki.co.uk to find out more.