Ski Chalet Holidays
Ski resorts offer a variety of accommodation including chalets, apartments and hotels. Chalets do bring distinct advantages over the other two, so read on....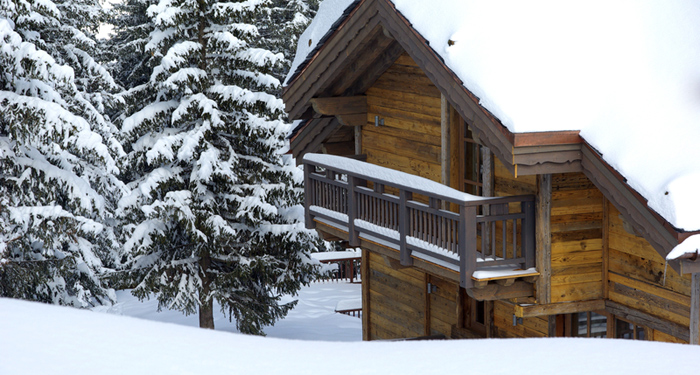 When choosing your ski accommodation do decide where you want the accommodation to be and what you want from it. For great apres ski for example you may want to be in an apartment in the centre of town whereas if you are holidaying with children you may want a ski in ski out ski chalet in a quiet location.
The Benefits of a Chalet
A ski chalet holiday can be a great idea. You get to relax in a homely environment but without the worries of cleaning and other day to day chores. Chalets are also great if you are a family and travelling with children, as you can put them to bed at night and relax in the lounge, something that is not always possible in hotels.
Another benefit of a chalet is that if a large group of you are travelling, they can work out very cost effective.
Catered Ski Chalets
Chalets come as catered or non catered. Catered ski chalets are not for you if you don't want to socialise. The whole point of them is that you either book a whole chalet out or you may be sharing it with strangers. Typical food in a catered chalet includes a cooked breakfast, afternoon tea when you get in from the slopes and a three course evening meal with wine.
A ski chalet host prepares all your food and either lives in the chalet or turns up in the morning to prepare breakfast and does the same in the evening. If you can fill the chalet this option can work out cost effective, particularly as some resorts are so expensive to eat out in and some resort supermarkets are not that cheap either. One of the other benefits of a catered chalet is that the ski chalet host is often a great source of knowledge about an area and can guide you in the right direction.
Some ski chalets are also classified as family ski chalets in that not only do they have all the equipment you will need travelling with children but they may also offer childcare on site or nearby with English speaking nannies. There are also designated non smoking chalets.
Non Catered Chalets
Non catered chalets are exactly that! You hire the chalet but you have to do all your own cooking. This often suits people who want the privacy of no one else being in their chalet and the flexibility of eating what and when they want.
Where Are The Best Chalets?
The French Alps have the largest number of ski chalets, resorts like Chamonix, Meribel, Val d'Isere, Courchevel and Tignes have chalets that will sleep 6 to 16 people. Also look out for chalets that are ski in ski out. Other countries that also have a good number of chalets including Switzerland, Italy, Austria, Canada and the USA.
Finally....
When selecting a chalet do think about your budget and whether you want catered or non catered. In addition think about location, if you are with children try to be as near the lifts as possible. Do check the size of the boot room and also parking facilities if you have a car with you.