Jackson Hole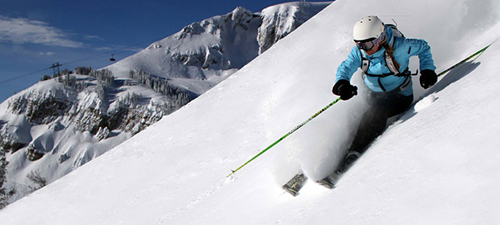 If you ski in Jackson Hole you will find yourself surrounded by the beautiful Grand Teton Mountains in Wyoming. With powder and pistes for all levels of skiing and snowboarding, read our review to see the benefits of this ski resort and book online.
Where
Ski Jackson Hole and find yourself in Wyoming's beautiful Grand Teton Mountains. With it's own airport, serviced by flights from both Denver and Salt Lake City, you can be on the slopes very quickly. Also served by the larger international airports of Denver (about 7 hours) or 'just' 4 hours from Salt Lake City.
resort ESSENTIALS
| | |
| --- | --- |
| RESORT ALTITUDE : | 1924 m |
| TOTAL PISTE : | 2500 km |
| LONGEST RUN : | 7.0 km |
| SEASON : | December - April |
WE LIKE
Some real expert-only terrain and one of the US's biggest verticals, great for expert skiers and boarders, motto 'its like nothing you have skied before'.
Unspoiled, remote location with impressive scenery and wildlife, 3000acres of backcountry terrain in addition to 2500acres of trails
Excellent snow record and excellent snow most seasons - avg 10m+
WE DON'T LIKE
The town is also 15 minutes from the slopes - though the lift-base Teton Village is an increasingly attractive alternative
Not great for beginners or timid intermediates as slopes are steep!
Lower altitude and sunny orientation means snow can deteriorate quickly
SUITABILITY RATINGS 1-5
On the Slopes
There's something for everyone when you ski Jackson Hole in Wyoming. Though this area is renowned for its deep powder and steep terrain, the pistes are well-groomed so beginners will be well catered for. Favourites for the expert crowd include Corbet's Couloir, but with one of North America's biggest vertical drops, almost endless backcountry skiing, and great snow all season, there is plenty to keep you happy. Beginners will find the Snow King and Apres Vous areas a good place to start, while intermediates will enjoy miles of groomed piste.
Ski Area
If you ski Jackson Hole you are in the US State of Wyoming.
Off the Slopes
The town of Jackson, just 20 minutes from the slopes, has a lively old Wild West feel, with raised wooden boardwalks, cowboys a plenty, and lots of great nightlife. As with all US ski resorts, there is no problem finding good, inexpensive food. There's no shortage of good eating when you ski Jackson Hole. Popular choices include the Vertical Restaurant, found at the Inn at Jackson Hole, which has stylish contemporary American cuisine and a great wine list.
Who's it Best For?
We think experts are the people who will get the most out of this place. It has the USA's biggest vertical after all!
Jackson Hole offers great snow and amazing extreme skiing for both skiers and boarders. The town itself is not that bad either with plenty of good accommodation and apres ski.
If you are looking for a holiday here check out what we can offer and get a great package deal. Or if you are just looking for accommodation read our guide to the types of accommodation available and again book with us online.
Why Choose Jackson Hole in USA
1. Great terrain for experts.
2. Amazing skiable terrain including 3000 acres of backcountry.
3. Excellent snow.
4. Well priced accommodation.
Is It Right For You?
If you are sure that Jackson Hole is the right resort then check out the holidays we have available. If you are just after accommodation then read our guides and find the prefect hotel room today.
The key thing to understand before you book your accommodation in Jackson Hole is that the town itself is a 35 minute drive from the slopes. If that bothers you then check out Teton Village which sits at the foot of the slopes.
You will find a good range of hotels here alongside apartments and some chalets. So choose between the wild west that is Jackson Town and Teton Village which offers everything from upmarket hotels to a hostel.
Where Will I Find Chalets Here?
You will find a good range of accommodation in both Teton and Jackson but you could also choose to stay inbetween the two. Spring Creek Ranch Condos for example offer a number of villas which are a great choice if you are looking for a chalet.
Jackson Reservations are also good for finding cabin style accommodation and have properties in both Teton and Jackson. In addition do check out some of the amazing apartment buildings here which offer great facilities similar to those you will find in many hotels.
Before you book your accommodation to Jackson Hole you first need to decide where exactly you want to be. This is because the town of Jackson itself is a good 35 minute drive from the skiing.
If you want to be near the skiing then head for Teton Village which has a good range of hotels and apartments. Alternatively you could stay between the two as there are places like Spring Creek Ranch Condos which sits exactly between Jackson and Teton Village.
Where to Look for Apartments Here
If you opt to be at the heart of the skiing in Teton Village then check out the Teton Mountain Lodge and Spa which has suites with well equipped kitchens. Hotel Terra is also a good apartment style hotel.
The Teton Village Condominiums spread out across Teton Village give really good access to the lifts and so are well worth checking out. Jackson itself also has a really good choice of apartments.
Before you choose a hotel in Jackson Hole you first need to decide where you want to be. The town of Jackson is a real cowboy town with shops selling cowboy boots and stetsons. It has great hotels, bars and restaurants but it is a good 35 minutes from the skiing.
If you want to be closer to the slopes then you should opt to stay in Teton Village which sits literally at the foot of the slopes. It has a good range of hotels and apartments to choose from.
What Type of Hotels Are Here
If you opt to stay in Jackson itself then one of the best 5* hotels is the Rusty Parrot Lodge. Another very centrally placed hotel is the Wort Hotel, one of Jacksons original stagecoach inns. You will also find a good range of cheaper hotels and apartment buildings here, along with great nightlife, restaurants and bars.
In Teton Village there are a number of good slopesode hotels including the Four Seasons Resort which also boasts a good spa. The Snake River Lodge & Spa also has a great location.You may opt to stay here in Teton but make some journeys into Jackson for the nightlife.
Jackson Hole is situated in northwest Wyoming. It isn't the easiest place to get to from the UK but in some ways that's the beauty of the place.There is an airport at Jackson Hole only 13km away but whilst there are connections from US airports you can't fly here direct from the UK.The nearest international airports for Jackson Hole are Salt Lake City, Denver or Dallas.
Driving To Jackson Hole
If you are driving from Salt Lake City the distance is 307 miles which will take you about 5 hours. Denver is just over 500 miles and will take between 9 and 10 hours 30 minutes. All of the drives will offer you breathtaking scenery but the drives are long.
Alternatively you can get a bus, the Mountain States Express for example, provides daily bus services between Jackson and Salt Lake City.
Upon reflection you may do better to get an internal US flight to Jackson Hole Airport. You can fly from Dallas, Chicago, New York and Los Angeles. Once you are here the resort is then only a 30 minute drive away.
Compare Jackson Hole ski schools and then book or reserve your ski and snowboard lessons before you arrive in resort! Reserve your spaces in group or private lessons in Jackson Hole so saving yourself a lot of hassles!
Ski Schools in Jackson Hole
Whether you want to have ski lessons or snowboard lessons, most Jackson Hole ski schools offer a wide range of options including half day lessons, private or group lessons. Use GoSki.co.uk to find out more.