Ski Salen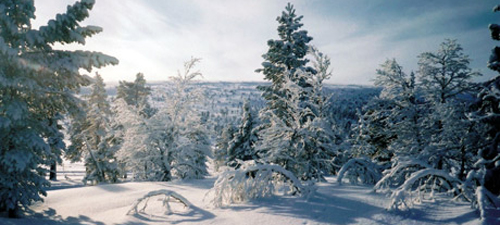 The locality of Sälen is situated in the Municipality of Malung-Sälen and the County of Dalarna, Sweden. It is the home of the largest race for cross country skiers in the world and equally as famous for its alpine resorts. There are seven ski resorts located here today, among them the oldest resort being Högfjällshotellet which was built in 1937.The Sälen Swedish Ski resorts provide a total combined area of 145 km of downhill skiing. There are 100 ski lifts that provide service to 86 individual pistes. If you have the Sälen lift pass, you can ski or snowboard into either of the ski resorts of Lindvallen or Klappen. Due to the nature of the Scandinavian climate, the snow cover is usually fairly consistent.
All levels of skiers can enjoy Sälen
The snowmaking capabilities of Sälen's 80 snow cannons are able to enhance the snow cover on 75 km of the well maintained ski runs. The lift capabilities of the 100 lifts are able to carry 102,000 skiers each hour they are in operation. One of the best things about skiing Sälen is that it is able to cater to all levels of skier ability from both beginners to experts. Beginners are perhaps best accommodated on these slopes as there are 60 green runs, 31 blue runs, 31 red and 31 black. Snowboarders will also enjoy the highly rated terrain and snowboard parks; there are two of these to try out.
Scandinavia's largest ski domain caters to all
As Scandinavia's largest ski domain, Sälen is composed of four different skiing areas which are connected and are able to shuttle people back and forth for free. The resort is well known for offering both good cross country and downhill slopes. Families with children are especially catered for here, and here is the only ski-in McDonalds in the world. Although the facilities are fantastic and hard to match, the scenery is not the most spectacular. The surrounding area consists of hilly slopes that are gentle and are easy to get to, with only a maximum five hours of driving time from the city of Stockholm.For cross country skiers there are 300 kms available at Sälen, as well as off piste skiing, and for the adventurous - half pipes. All four of the resorts skiing centres offers skiing instructional schools with children's tuition packages. Ski season is from the middle of November through to the end of April.
Getting to Sälen
The nearest international airport is in Stockholm, which is 400 kms from the resort. If you are flying from the UK to Mora, you can travel 90 km from Sälen via Stockholm and get onto a transfer bus, or get service to the resort from there.



| Resort Name | Low Altitude | High Altitude | Vertical Drop | Longest Run | Beginner | Easy | Intermediate | Advanced/Expert | Skiing | Boarding | Après | Families | Overall | | | |
| --- | --- | --- | --- | --- | --- | --- | --- | --- | --- | --- | --- | --- | --- | --- | --- | --- |
| Kläppen | 350 m | 665 m | 315 m | 3.0 km | 14 | 6 | 5 | 9 | | | | | | | | |
Other Ski Areas in Sweden