Banff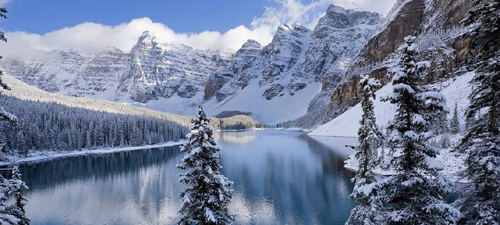 Ski Banff and you are only 150km from Calgary, with snow-sure conditions, powder and stunning scenery. If you want to go skiing and snowboarding in Canada, this ski resort should be on your list! Check out our resort review for all you need to know.

Where
If you ski Banff, your ski holiday is based in the Banff National Park - around a 90 minute transfer from Calgary airport. In fact the Banff ski resort actually hosts three world-class ski resorts in one : Norquay / Mystic Ridge (c.10mins from the town), Sunshine Valley (c.25mins) and Lake Louise (c.45mins). Skiing and snowboarding in Banff has trails for all abilities from beginners and intermediates, particularly at Norquay and Sunshine Valley, to experts, who should head to the challenging pistes of Lake Louise.
resort ESSENTIALS
| | |
| --- | --- |
| RESORT ALTITUDE : | 1630 m |
| TOTAL PISTE : | 200 km |
| LONGEST RUN : | 8.0 km |
| SEASON : | November - May |
WE LIKE
Spectacular high-mountain scenery - quite unlike the Colorado Rockies
Excellent snow and long season at Sunshine Village, the big local area. Can choose to ski Norquay, Sunshine or Lake Louise.
Great off-piste in all 3 surrounding resorts
WE DON'T LIKE
Sunshine is a 20-minute drive away, followed by a long access gondola
Most lifts/runs are of limited vertical - 200/400m (660/1300ft) is typical
Can be very cold, whether riding lifts or waiting for shuttle-buses
SUITABILITY RATINGS 1-5
On the Slopes
In Banff ski resort, there's nearly 30 lifts and 200km of runs with trails for every level of skier and snowboarder. There's a couple of snow parks as well as some great off-piste conditions. Ski holidays in Lake Louise offer the big challenges with Double Black diamond runs for the real expert! These three Canadian ski resorts are perfect for families, couples and group holidays.
Ski Area
If you ski Banff you are in the ski area of Alberta.
Off the Slopes
As you would expect, the Banff ski resort has excellent facilities to service the three resorts. Off the slopes non-skiers are spoilt with a sports centre, gyms and of course an ice rink, so you won't get bored. There's a very wide range of accommodation, around 40 restaurants and lots of bars, but importantly it's great for children too if you are looking for a good family ski holiday.
Who's It Best For?
There really is something for everyone here, as our guide suggests, you simply have so much choice!
Banff offers an amazing setting to ski in. It offers three separate ski resorts-Mount Norquay, Sunshine Village and Lake Louise. These three areas share a lift pass and offer really varied skiing and boarding.
If you are looking for a ski holiday here then check out the amazing deals we can secure for you with the UK's leading ski holiday providers. If however you are looking for accommodation only check out our guides to what is available and also book online with us.
Why Choose Banff in Canada?
1. Spectacular scenery.
2. Choose to ski in three ski areas,Norquay, Sunshine Village and Lake Louise.
3. Great off piste.
4. Excellent snow and long season.
Is Banff Right For You?
If you are sure that Banff is right for you then check out the great holidays we have. If however you have no time to sort your own holidays out why not let our Banff tailormade ski holidays service help you.
If you decide to come and ski in Banff you have a big decision to make as to where to base yourself. You really don't want to get this wrong as the three ski areas are very different in what they have to offer.
Deciding Where to Stay in Banff
You could stay in Banff town itself which has lively nightlife and a good number of restaurants and shops. Norquay, its ski area, is however very small so it wont probably satisfy you for that long and you would then need to get to the other ski areas.
Lake Louise on the other hand is the largest of the ski areas but it wont give you the party atmosphere of Banff town. Banff is about a 40 minute drive from here. But if you want a quieter, really beautiful place to stay, then this could be the best choice.
For great off piste opt to stay in Sunshine Village. It isn't as beautiful as Lake Louise or as lively as Banff town but it does boast great skiing and, as we said, great off piste. It also has the areas only ski in ski out accommodation.
If you are planning on skiing or boarding in Banff this winter the first decision is where to base yourself as each ski area here offers very different things. Banff town for example is great if you want lively nightlife and you will find a good range of apartments here, but the local ski area, Norquay, is very small.
On the other hand Lake Louise is the largest ski area and quite amazingly beautiful but the nightlife is not as amazing as in Banff. You could also consider Sunshine Village which you should head to if its off piste you are looking for. If you do, check out the Sunshine Mountain Lodge which offers great rooms and it's ski in ski out.
Choosing an Apartment in Banff
Should you opt for Banff itself and decide to travel around then there are a good choice of apartments here. Check out the Buffalo Mountain Lodge and the Banff Caribou Lodge.
If you have slightly less money check out downtown Banff, places like Juniper Inn and the Rundle Manor. It is good to note that there is a bus service that connects all three ski areas.
Before you book a hotel in Banff you first need to decide where exactly you want to stay as each of the three ski areas that make up this area are all quite different and you don't want to get it wrong!
Banff town is a lively place full of shops, bars and restaurants but its ski area, Norquay, is quite small and probably wont keep you busy for more than a few days. Lake Louise, in comparison, is a huge ski area and is very beautiful but you wouldn't come here for lively apres ski. Finally, there is Sunshine Village which is great if you want good off piste.
What Type of Hotels Are Here?
One of the best hotels in Banff is Fairmont Banff Springs which was designed to look like a Scottish castle! It offers great luxury and has a renowned spa. If you are looking for interconnecting rooms as a family then do check out the Fox Hotel.
If you are heading to Lake Louise check out the Fairmont Chateau Lake Louise which is the best hotel here. For great food check out the Post Hotel & Spa. In Sunshine Village you will find a great ski in ski out choice, the Sunshine Mountain Lodge.
Banff is located in Alberta, surrounded by the Canadian Rockies. It is 144km away from Calgary International Airport. Banff is then 17km from Sunshine and 55km away from Lake Louise.
Transferring from Calgary
If you drive from the airport in Calgary to Banff the journey will take about 1 hour and 30 minutes. The journey is on a fast 4 lane highway so its not a particular challenging drive.
Unless you want to travel extensively you could argue that there isn't a great need for a car in resort. There is an efficient bus shuttle which travels between the three ski areas, so connections are good.
Sadly there isn't a train you can get. Another option though is to catch one of the buses run by Banff Airporter who will take you to both Banff and Lake Louise from the airport.
Compare Banff ski schools and then book or reserve your ski and snowboard lessons before you arrive in resort! Reserve your spaces in group or private lessons in Banff so saving yourself a lot of hassles!
Ski Schools in Banff
Whether you want to have ski lessons or snowboard lessons, most Banff ski schools offer a wide range of options including half day lessons, private or group lessons. Use GoSki.co.uk to find out more.